As I've mentioned a few times, I signed up for Robin Dudley-Howes Eclectic Beaded Crochet Jewelry months ago during an early bird special.  At the time, I had just – and I mean just, I think I got the email about this class maybe a day after I watched the other one – watched a beaded crochet video on Creativebug, but I had problems with it, and while I became intrigued with the technique, I wasn't inspired.  The woman who taught the class did not know how to crochet – which is fine, I guess – do what works for you.  But, it was very hard for me to watch her hold the hook wrong, and pull the cord through incorrectly as well.  I hate to use the words "wrong" and "incorrect" when it comes to craft – I'm a believer in doing what works best for you, but for me, at least, it was painful to watch, mostly because she was doing it a harder way than the technically correct way, and I felt she was sending her students down the wrong path.  If you were taking the class, and wanted to actually learn how to crochet, you probably could get away with doing the weird chain stitch she was doing, but you wouldn't be able to build on it – that would be the only stitch in your toolbox.  Someone actually posted something about it in the comments, and the Creativebug staff did jump in and say, this is not the traditional crochet method.  But, in any event, I didn't mean for this to be a negative review of the Creativebug class, I just wanted to give a thumbs up to the Robin Dudlley-Howes class, hosted on Jeanne Oliver's ning, which I had been anxiously awaiting, hoping it would be the class that the Creativebug one was not.  And, I was not disappointed!
The class consists of two wrap projects (one that's a simple bracelet, and one that could either be worn as a multi-wrap bracelet or a necklace) from start to finish, as well as some extras, adding chain to your bracelet, creating a tassel, and sculpting charms from Apoxie Sculpt.  What makes this class special are primarily two things.  First, Robin teaches you how to do what she calls a bridge over the larger beads, and second, she has a really effective, three part method of securing her closures, which thankfully does not involve Super Glue.
This is the bridge –
The top bead is the method she teaches in class, the bottom bead is my variation.  I'm not going to tell you how to do it, and reveal her secret sauce, but for an experienced crocheter, it's easy peasy, for an ok crocheter like me it was easy, and for an inexperienced crocheter who is just learning to chain, it would take a bit of practice, and be a bit fiddly, but no more than actually what it would take to learn to chain.  Anyway, this element is such a nice touch in the finished piece – it just makes it look more polished, as you no longer have the cord showing while it's awkwardly stretched over a large bead.  And because she films the whole process of crocheting the wrap, this technique is repeated enough times you don't have to keep replaying the video, or slow the video down, or remember the exact tic of the video where to watch it, it's going to come up again and again, which is great for learning.
The beads, by the way, are part of a custom made kit I bought from Robin through her Etsy shop.  This is the kit I received: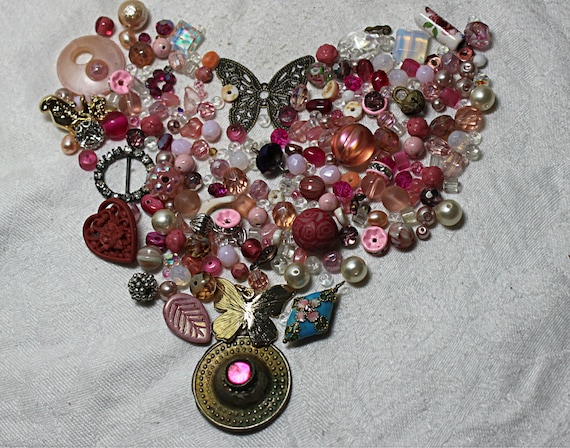 I told Robin the color family I was interested in (pink) and that I loved butterflies.  And here is my kit, with two butterflies!  I really appreciated the fact that she was able to go through her stash and find something that was exactly what I was looking for.  Perfect.  This kit also included the recommended hook, a Size 6 metal hook, as well as some C-Lon cord.  Mine was hot pink.  I wasn't so into that, but you never know, I might use it.  Along with the beads and the hook, there was also a little packet of crimp beads, head pins for dangle making, and toggle closures.
How much nicer is this selection than my paper beads!  I'm so over the paper beads, now – spoiled.  I don't think I can go back.
Anyway, after watching the videos, I got to sorting my beads:
And arranging them how I wanted them on the cord.
In the class, Robin doesn't use a bead board, but (and that's not to say she should, obviously, I just like it) she goes through her thought process in picking her beads, and how she strings them on her cord.  As she's creating the longer wrap, there's not a lot of skipping over steps just because they're repetitive, and you see her crochet the entire thing over the course of several videos.  I found this really helpful; sometimes when I'm watching a speeded up video I'm disappointed – it may be boring to the teacher, having done it 50 billion times, but it's new to me.  So, I appreciated that the whole process was there.
Then I had a choice, string up my pretty beads, and start crocheting, or wait because I didn't have the final, necessary tool to wrap up the three part closure process, the ThreadZapper II.   Of course I couldn't wait, and I whipped up my wrap bracelet:
At the beginning and end of the wrap, I used a vintage pearl bracelet, just by opening up the jump rings and splitting it in two.  So, I already had a ready made large jump ring on one end, and a clasp on the other.  The buttons are from my own stash, as was the Eiffel Tower charm, but the rest is from the kit.
I thought about using this rhinestone piece as a closure, but I really wanted the rhinestone bling in this one, so I used it.  You can't see them so well in this photo, but there are these super cute pink, rhinestone rhondelles (next to the Eiffel Tower) in there too – love them.
And the butterfly!
I love it, but can't wear it yet – not until the closure is complete.  I've completed steps one and two of the process, and now I just need the ThreadZapper.  Most videos that involve creating a loop, or securing a thread, or ending a bracelet like this, or perhaps a ladder bracelet like the one I posted about earlier in the week, use SuperGlue, or some kind of glue.  This does not work for me – not only do a make a mess, and end up glueing my fingers together, but it just seems to get stiff and brittle on the cord without actually securing it.  I'm not a fan of the glue, so I'm anxiously awaiting the arrival of my ThreadZapper.
Of course, I'm already planning my next bracelet!  This time, I'm going to do a button closure, with that big brass button with the pink stone in the middle (photo of the kit).  There are plenty of beads left to string up at least one, maybe two more bracelets, and I have plenty of head pins in my stash to make more pearl dangles.  And, I may have ordered some beads from Etsy as well.  Yeah, I did.
Of course.