29 Faces – Face 9 and Finished Pendants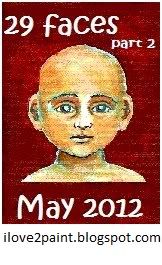 Face 9
Who's worried? All of my faces lately. So, in an effort to avoid a creased brow, a stressed girl, before I even began, I scribbled "Try Not to Look Worried." And, I think it worked. She looks a little blank, but she doesn't look worried.
I semi-caught up my Lovely Dream lessons today – Suzi's all about Pan Pastels right now – but I don't have any. So, I stopped with the graphite. Maybe I'll color her in when I buy some.
And I'm on the last lap of my Mother's Day marathon – my pendants are done. And, I'm pretty pleased with them. Oh, one has an air bubble, one has a bit of a ding in the resin, but for the most part, it was a good first effort. I did totally screw up one of my cool Eiffel Tower ones, when I painted the domino, but oh well, I can always make it again. And now, as always, I have all kinds of ideas for the next time. One of them is curing as we speak – when I thought about what I should wrap the pendant in – I thought – ah ha! a tin – and why not add a little resin while I'm at it? I'm not sure it was a good idea though – I think I may have gotten some resin in the hinge – oopsy. Whatever. It's the thought.
But now for the pendants. They didn't photograph so well – they look a lot better in person. Especially the Eiffel Tower – in the photo, it looks like the brown paint is brown guck, but in person, it looks they way I wanted it to, a bit aged, a big grunge.
Anyway, I have strategies in my head for being neater with the resin next time, although, like the dolls – what the heck am I going to do with all of these pendants?
At least the dolls I can hang on the wall.