29 Faces
So, it's a good thing May has 31 days, because I'm a little late to the party. Ayala's Art is once again hosting a 29 Faces Challenge – 29 Faces, 31 Days, Go!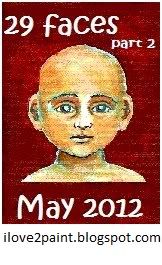 And, I don't know if my faces constitute a party anyway – but just like photography- the only way to learn to shoot, is to just shoot.
So – here I am – shooting –
Face 1 –
I seem to be going through a Picasso-ian blue period – this is the page she's next to –
An Art Geeks challenge from a few weeks ago was to do a spread in one color – so I started blue girl on a tag, and then I put her down for a few days, and then I wasn't feeling blue anymore, and I kind of abandoned the challenge. She's all blue though, I got half way there!
Anyway, with all of the art trading I've been doing, I haven't had much of a chance to work in my junkety journal – so this was a nice change of pace. I'll probably do some journaling on the page too, maybe tomorrow.
Maybe not.
But I am going to do a face.