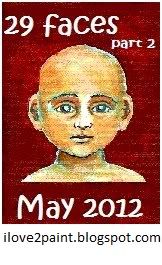 Only five days behind – not terrible!
This one kind of looks like a pretty Keanu Reeves.
See all of that gritty "texture" around her nose? That's paper pill – notebook paper really isn't very conducive to watercolor. Oh well.
And of course, I have perfectly perfect watercolor paper in my Lovely Dream Journal, that I abandoned for the junkety journal.
I started this face with a Prisma Color Watercolor pencil – I thought I had pulled out a grey color, but it turned out to be green. Oh well. Then I used some browns, pinks and greys, and finished off with gesso. The background was a complete afterthought – and not finished.
Onward.
Only 19 more to go.